of Melbourne, Australia


NightWing Sounding Pipes

Each NightWing sculpted artefact is provided with its own individually lined and padded display box - hand made by the artist. The boxes are fitted with photographic labels which include an image of the item itself, and each also comes with a signed parchment certificate.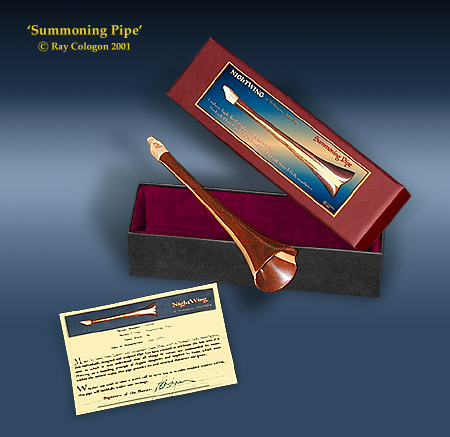 (click on the picture to return to the 'Pipes' page)

SUMMONING PIPE

Actual size: 221mm (L) x 53mm (H) x 46mm (W)

The sculpted pipe pictured above is turned and carved from Laurel with flared insets in reclaimed Huon Pine in the stem, and fitted with a hand-carved mouthpiece in Monash Holly. It is one of the original pieces from a group of one hundred works which were exhibited as the NightWing Series in 2001.

Part of the enigma of these pieces is that as well as providing visual and tactile fascination, they also work to produce a sound when raised to the lips, making a rich woody note at a single pitch (though the register can be adjusted by muting/detuning techniques). The contours of the flared stem give the sound a rich and warm character and provide the pipe with its own recognisable aural signature.

The hand-carved mouthpiece fitted to the NightWing sounding pipes utilise the ancient fipple-flute sounding principle, as is believed to have been employed by ancient forest folk of Celtic lore (who were reputed to use aerophones, perhaps resembling these, to communicate secret signals across the woodlands).



NightWing Enterprises

ABN 22 207 533 285
www.nightwing.com.au
PO Box 20, Dallas, Victoria, Australia 3047
Ph +61 3 9016 3347 • Fax +61 3 9309 8273 • Mobile 0409 309 143
Email:
contact@nightwing.com.au

Entry Page
•
Main Menu
•
Site Map
Spoons
•
Pipes
•
Wands
•
Masques
•
Visages
•
Vessels
Brochure
•
Articles / Reviews
•
Galleries
•
Links
•
Net Awards
•
Previous Work
What's New
•
Studio/Workshop
•
Catalogue
•
Privacy Policy
•
Guest Book
•
About the Artist
•
Make Contact